Woah, testo originale e traduzione del brano che sta facendo impazzire tutte le piattaforme social. Scritto da Krypto09095.
Sulla piattaforma digitale di origine cinese, negli ultimi giorni sta spopolando la canzone di Krypto09095. Raggiungendo numeri strabilianti. Tutti gli utenti di TikTok usano il suono per sfidarsi nel gioco.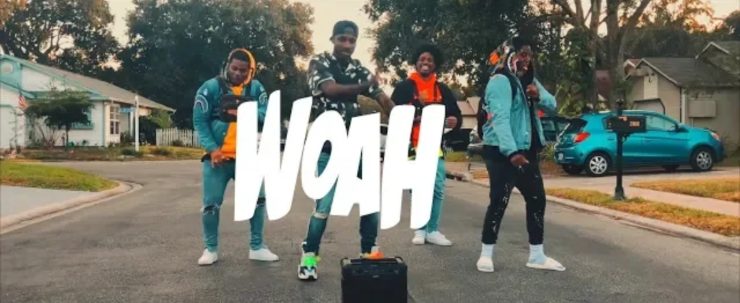 Woah di Krypto09095, testo originale e traduzione
Testo originale e traduzione
Woah! Lookin' at my drip, lookin' at yo drip (woah)
Gaurdando la mia flebo, guardando la tua flebo
Mommy look at me, oh, I'm killin' that (woah)
Mamma guardami, oh, lo sto uccidendo
Swinging side to side and I'm killin that (woah)
Oscillando da un lato all'altro e lo sto uccidendo
Damn yo' girl so fine, but her breath is like (woah)
Maledetta ragazza, così bella, ma il suo respiro è come
She said she wanna dance but she don't know how to (woah)
Ha detto che vuole ballare ma non sa come
I'm iced out, oouh, lookin' like a star (woah)
Sono ghiacciato, sembro una stella
Her name is Jenny, oh, bit*h don't have no panties (woah)
Il suo nome è Jenny, oh putt*na non ha mutandine
I'm Steph Curry, when I hit the three, I hit the (woah)
Sono Steph Curry, quando ho colpito i tre, ho colpito il
Pause, lean, hit you with the (woah)
Metti in pausa, piegati, colpisciti con il
I'm saucy, ooh, she don't like me (woah)
Sono impertinente, non le piaccio
She flexin' on the 'gram, but her booty flat (woah)
Si flette sul grammo, ma il suo sedere piatto
Cha, cha, cha, cha, cha, cha! (woah)
Tryna save some money but I need me some more Louis v (woah)
Sto cercando di risparmiare un po' di soldi ma ho bisogno di me ancora un po' di Louis V
She said, "Take a statement" so I bought me some more jewellery (woah)
Ha detto: "Fai una dichiarazione", quindi mi sono comprato altri gioielli
I like wearing Off-White but I'm black, it's cool with me (woah)
Mi piace indossare Off-White ma sono nero, mi sta bene
Don't save her, she a thot (how you konow?)
Non salvarla, lei è una coglio*a (come fai a saperlo?)
She went to school with me (woah)
È andata a scuola con me
Heard you're playing for keeps, uh
Ho sentito che stai giocando sul serio
I bought her a Patek Philippe (woah)
Le ho comprato un Patek Philipper
Heard you're payng for cheap, uh
Ho sentito che stai pagando per poco
I spent like 30K each (woah)
Ho speso 30K ciascuno
Diamonds all white, yeah, looks like
Diamanti tutti bianchi , si ,sembra
I dipped' em in bleac (woah)
Li ho immersi nella candeggina
Hit on my ward and flee
Colpisci il mio reparto e fuggo
Ice on my neck is like negative three (woah)
Il ghiaccio sul mio collo è come un tre negativo
Up ten times out of ten I bet hit yo' (woah)
FIno a dieci volte su dieci scommetto di averticolpito
Ain't no Averange Joe, oh, born in '94 (woah)
Non è Joe medio oh, nato nel '94
She wanna go on a date, uh
Vuole andare ad un appuntamento, uh
 I gave her chicken to go (woah)
Le ho dato il pollo per andare
Fur chinchill' on my coat, uh 
Pelliccia di cincillà sul mio cappotto
She want a bag oh, yeah yeah (woah)
Vuole una borsa oh, sì sì
Uh, got that drip, boy I'm dripped in Loui (waoh)
Uh, ho quella flebo, ragazzo, sono pieno di Louis
Uh, this is D3, you only see in 2D (woah)
Uh, questo è 3D, lo vedi in 2D
Uh, do not sleep on me, better get a Snookie (woah)
Uh, non dormire su di me, meglio non orendere un Snookie
Uh, my ice is TLC, man that bit*h was chilly (woah)
Uh, il mio ghiaccio è TLC, amico quella ca*na era fredda
Uh, "Bang Bang Bang" like the clip do (woah)
Uh, "bang bang bang" come fa la clip
I've been sittin' with the jist too
Sono stato seduto anche io con i jist
I make that shot like jinsu (woah)
Faccio quel tiro come Jinsu
She gon' play karma whaen it come back to you 
Lei giocherà il karma quando tornerà da te
Then flip it being like sasoon (woah)
Quindi capovolgilo come sasoon
Potrebbe interessarti anche: Renegade dei Big Red Machine feat. Taylor Swift: testo e traduzione (in aggiornamento)
Bisogna ammettere che questa canzone pubblicata un paio di anni fa, ha riscontrato un successo inimmaginabile.
Per rimanere sempre aggiornato dalla redazione di Idealia.it su tutte le novità del mondo social e molto altro ancora, non dimenticare di iniziare a seguirci anche nei nostri profili ufficiali di Instagram, Facebook, Twitter e TikTok!
Desirèe Cirisano